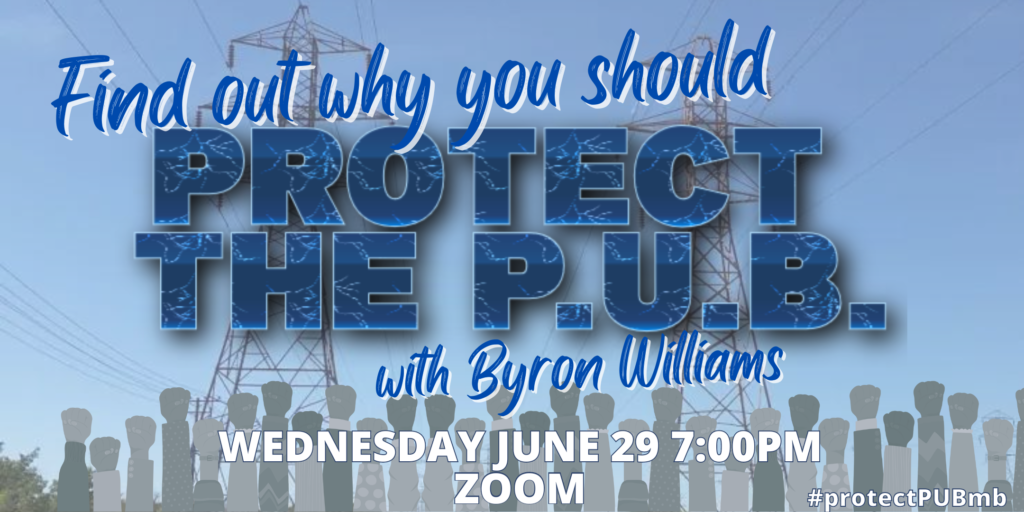 Manitoba's Public Utilities Board is under threat! Join us on Zoom Wednesday, June 29 at 7:00 pm to learn more about the harmful Bill 36 and what you can do to stop it.
The Public Utilities Board (PUB) is an independent institution many Manitobans don't know enough about. It's responsible for determining what prices our Crown corporations like Manitoba Hydro and Manitoba Public Insurance can charge. Bill 36 proposes drastic, dangerous changes to how the PUB sets prices, and what the PUB can recommend.
Want to learn more about Manitoba's Public Utilities Board and how Bill 36 harms the independence of the rate-setting process? The Protect the PUB Coalition is proud to host a webinar with Byron Williams, Director of the Public Interest Law Centre. Byron will explain what the PUB does, what makes Manitoba's PUB particularly strong, and explain what Bill 36 is trying to do to the PUB.
Byron Williams, LL.B. is the Director of the Public Interest Law Centre, where he works on public interest test case litigation in the areas of human rights, poverty, and in environmental, consumer, and Indigenous law. Byron has appeared before the Supreme Court of Canada, all levels of Manitoba Courts as well as the Federal Court of Appeal. He has participated in regulatory interventions before a wide array of provincial and federal administrative tribunals, including the Manitoba Public Utilities Board. Byron represents the Consumers Association of Canada (Manitoba) Inc., Harvest Manitoba and the Aboriginal Council of Winnipeg in matters relating to Manitoba Hydro.
---
Summary of Changes
At our initial meeting on April 7, 2022, coalition member Alex Buchner presented a summary of the changes that Bill 36 makes based on his analysis. This document presents that summary of changes and was updated based on feedback from other coalition members present at that meeting.
Bill 36 Summary of Changes (2768 words)
---
Amended Legislation
Bills that contain a lot of amendments to existing legislation are difficult to read. They contain a lot of section references that need to be looked up separately and then cross-referenced with the changes proposed in the Bill.
To make learning about this bill a little easier, coalition member Alex Buchner created amended versions of The Manitoba Hydro Act and The Public Utilities Board Act using the track changes function in Microsoft Word. This makes it a little easier to see what this legislation actually does. If you want to dive in deep, you may find these documents helpful.
The Manitoba Hydro Act (Amended)