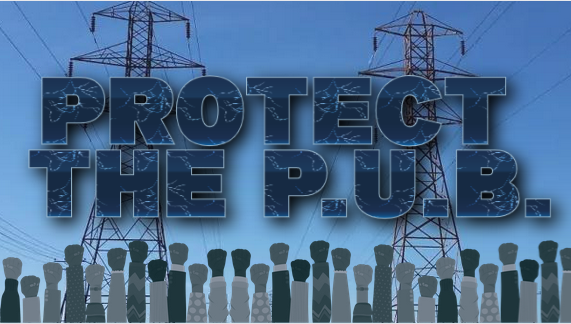 We are the Protect the Public Utilities Board (PUB) Coalition. We are a coalition of concerned individuals and organizations in Manitoba who are demanding the government withdraw or drastically alter Bill 36: The Manitoba Hydro Amendment and Public Utilities Board Amendment Act.
Some of our concerns about this bill include:
How Bill 36 could raise the price of electricity beyond what Hydro actually needs.

How Bill 36 strips the Public Utilities Board of its impartial oversight role in setting hydro and natural gas rates.

How Bill 36 allows current and future governments to create new rules on how electricity rates are set without having to justify those changes before the Legislative Assembly.

How Bill 36 censors the Public Utilities Board from questioning or critiquing government policy around rate-setting.

How Bill 36 allows for rate hearings to be held behind closed doors.

How Bill 36 allows for the private retail sale of electricity without a clear framework on what will be permitted.

How Bill 36 makes major changes to Hydro before the results of two major reviews of its operations have been completed.

How Bill 36 is making Manitoba look less appealing for investors

How Bill 36 is not consistent with MB environmental assessment legislation

How Bill 36 has broad concerns from a wide range of Manitobans who are unanimous in calling it a bad bill and asking for its withdrawal.

If this concerns you too, please send a letter to the government voicing those concerns and asking for answers.
This is a large, complicated bill with a lot of moving parts. If you'd like to learn more, please visit our resources page. We'll be producing more material and hosting events to help you learn more over the coming weeks.
Fill out the form below to be added to our mailing list. We will send out (very) occasional emails to update you on Bill 36 and our activities. We will never spam you, or share your contact information with third parties without your permission.